This article has step-by-step directions for creating log entries for one or more people from the Classes>Message screen.
From this screen, it's also possible to create a message that will appear on the Student Portal. For specific instructions on this feature, see FAQ: How Do I Send a Message to a Student?

---
Staff with SiD teacher login accounts can create logs on the Classes>Messages screen if they are enrolled in the class. Once logs have been created, staff with a teacher login account cannot edit or delete them.
Staff with admin login accounts can create logs on any Classes>Messages screen. They can also create, edit, or delete logs on the Students, Staff, and Volunteer>Log screens. See Add, Edit, or Delete Logs on the Students>Log Screen
How to create a log
Select the desired class from the Dashboard or Classes tab, then click on the Messages subtab.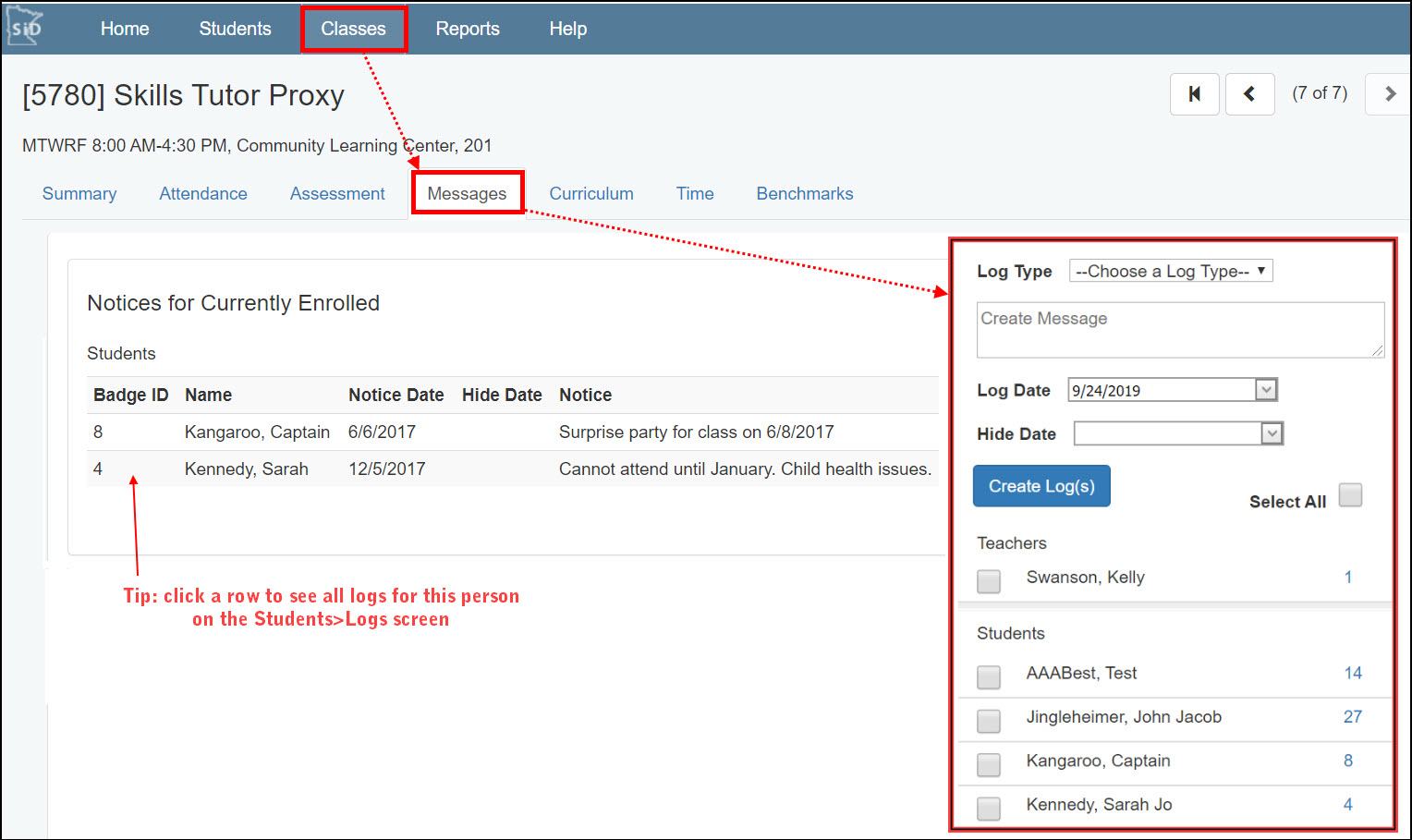 ---
Select the type of log to be created. See Logs - Overview and Chart for descriptions of log types.
Type the information to appear in the log. 
The Log Date defaults to today. To change the date, highlight and type the preferred date that will appear when the log is created.
If desired, type a Hide Date - a date after which the log entry will no longer be visible to the user (or to you).
Note: if you select a log type of "message" and leave the Hide Date blank, SiD will automatically add a hide date for one week after the Log Date.
Select the people in the class for whom the log entry will be created.
- To choose one or more individuals, click the box in front of their name.
- To choose everyone in the class, including the teacher and volunteers, click the Select All option.
Click the Create Log(s) button.