You can edit, exit (end), or delete an staff person's enrollment in a class from the staff person's page.
Once a teacher has been exited from a class, s/he will no longer be able to add student attendance or manage the class or its students.
On the Staff tab, search for the staff name; click the desired row in the results.

Select the Staff>Schedule tab. From the list of classes, select the desired class. A pop-up window will appear.

Make any of these changes:

Edit: change any of the field info as desired.
Exit: type an End Date, ideally when the staff person was last in the class. If you type an exit date that occurs after the class is closed, SiD will show the last date the class was open.
See also: Teacher Login Dashboard Features
Delete - use this only in the case of a mistaken enrollment that you do not want on the staff or class record: click the Delete this Enrollment link. If a staff earned any hours in the class, the Delete this Enrollment link will not appear, and the staff cannot be deleted from the class.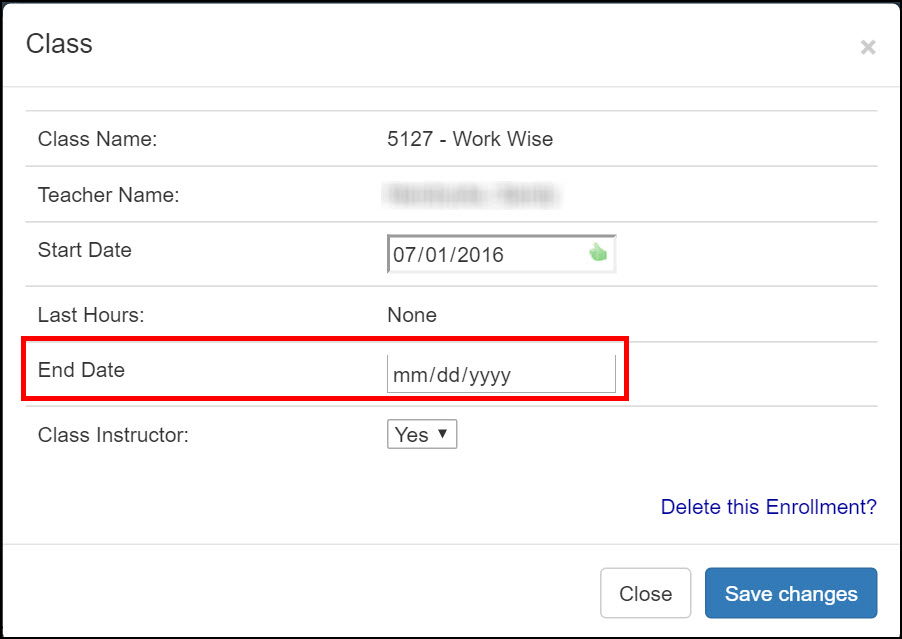 4. Click the Save button.
After a staff person has been exited, the class name will move to the "Recently Scheduled" section of the Home tab. The former class will appear for 2 weeks after the staff person's exit date from the class.